Are you planning on flying and want to bring a few essential oils on board? Well your in luck! Essential oils ARE allowed on airplanes as long as you follow TSA guidelines! I also included some of my favorite essential oil travel/carry-on cases you may want to snag to safely store your oils!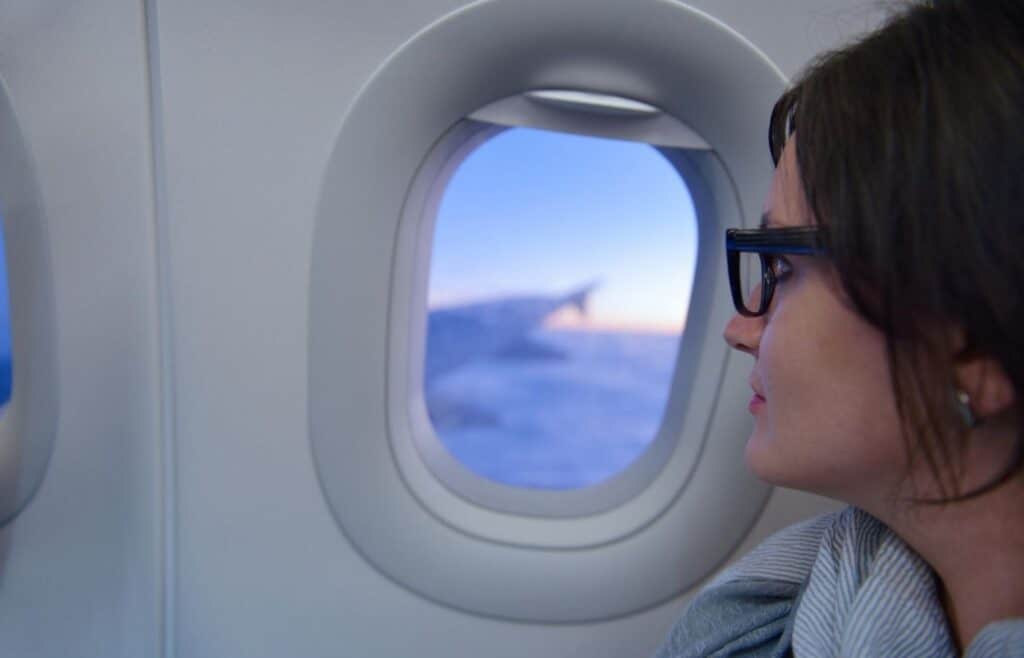 Bringing Essential Oils on An Airplane
Bringing your array of essential oils is tempting if you know you will be traveling. You can easily add your oils to a sturdy essential oil carrying case and stash it inside your checked luggage.
The question comes down to your carry-on. Can we bring our precious oils in our carry-ons too?
Those airplane seats are downright filthy, the air is not very pure, and trying to sleep on a plane is extremely hard with anxiety and jet lag.
Oils are really, the perfect solution for all of the above and more. But before you toss your oils into a carry-on, there are a few things you should be conscious of.
The TSA's 3-1-1 Liquid Rule for Flying With Essential Oils
First and foremost, what you take on the plane with you needs to be legal or else you could be forced to toss out your precious essential oils – ALL of them. something I cringe at.
If you have ever flown before, you know there is a liquids rule set forth by the TSA. I am sure you were forced at least once to throw something away because it didn't follow the guidelines set in place. And you can't argue with the TSA.
The law says that your oils need to be LESS THAN 3.4 oz.
The TSA states that, "You are allowed to bring a quart-sized bag of liquids, aerosols, gels, creams and pastes in your carry-on bag and through the checkpoint. These are limited to travel-sized containers that are 3.4 ounces (100 milliliters) or less per item. Placing these items in the small bag and separating from your carry-on baggage facilitates the screening process. Pack items that are in containers larger than 3.4 ounces or 100 milliliters in checked baggage."
Hooray! That's good news! Because pretty much EVERY bottle of essential oil is less than 3.4 oz! Your standard bottle of pure essential oil ranges anywhere from 5 ml to 15 ml. That is about 0.5 oz.
So just make sure you don't have a tub of lavender and you're good!
Also, the "1's" in the 3-1-1 rule means only ONE person can carry-on ONE ziploc bag full of 3.4 oz containers.
So to clarify, you can fit AS MANY essential oil bottles inside of a CLEAR quart size baggie that zips! Make sure the oils are not exploding out of the bag or they may give you a problem.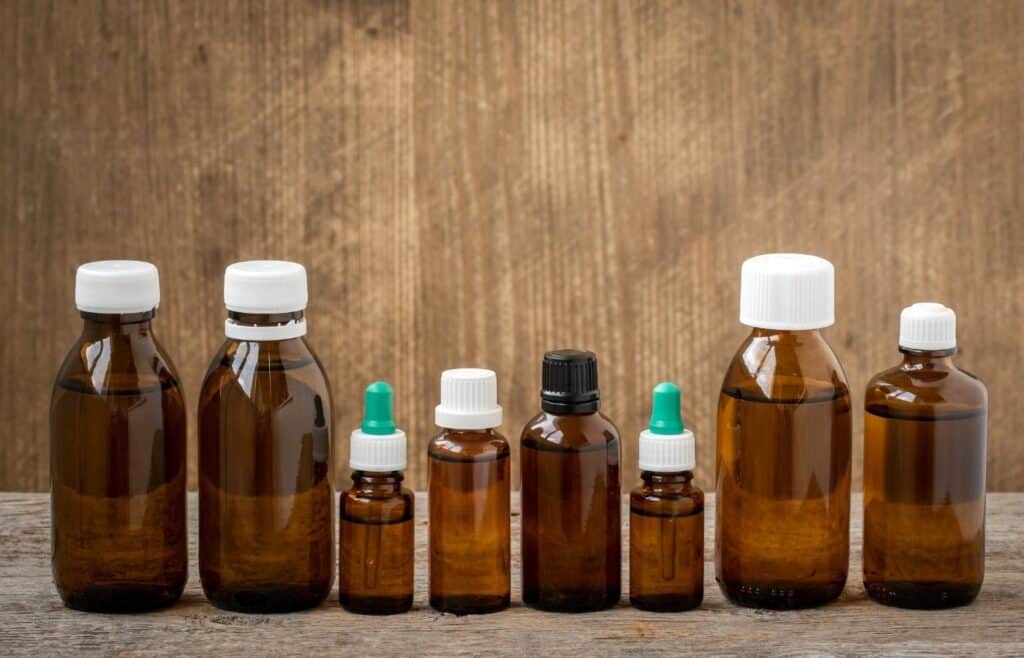 What Are The Best Essential Oils to Have on a Trip?
Essential oils are good to have with you on any trip whether your flying in a plane or planning a long road-trip. Traveling anywhere can be very anxiety driven, stressful and unsanitary! Here are some of the best oils to bring with you on your flight.
Traveling anxiety: Anxiety and stress are always elevated when traveling especially for those long-haul flights. You're on a schedule, you might be fearful of flying, or you may have a screaming toddler behind you. Either way, lavender, frankincense, geranium, neroli, or ylang ylang oils are great for this.
Energy boost/Jet lag: After flying across the country or just taking a red-eye, an energy boost is just what we need. Oils that will give you an extra boost in your step are peppermint, bay laurel, bergamot, camphor, eucalyptus, grapefruit, lemon, lime, pine, orange, rosemary, wintergreen, and spearmint.
Sanitizing: While in the airport and on the plane, you want to be careful what you touch. Everything is infested with germs. Oils like tea tree oil, sage, lemon, lemongrass, orange, grapefruit, lime, cinnamon, clove, lavender and rosemary are natural disinfecting properties.
Immune booster: When your around lots of people in a crowded place like an airport, you want your immune system to be as strong as possible! Thieves oil, clove, tea tree, lemon, eucalyptus, and niaouli oils are great boosters.
Sleep aid: Sleeping on airplanes is extremely difficult for me especially if its in the middle of the day. To help you sleep or at least nap, lavender, clary sage, vetiver, roman chamomile, and sweet marjoram oils are best.
Motion sickness/nausea/airsickness: Getting sick on the plane is the WORST. Especially if you have little ones your with. Ginger, peppermint, lavender, spearmint, cardamom, and fennel oils are said to be great for relieving nausea.
Inflammation: Sometime when we fly, our body swells, aches or certain ares become inflamed. Oils that will help are copaiba, frankincense, balsam, geranium, helichrysum, and peppermint.
Ear pressure: Congestion from colds or allergies can make ear pressure much worse. Using oils that help with congestion are best. Some oils for this are peppermint, eucalyptus, tea tree, oregano, clary sage, lavender and rosemary,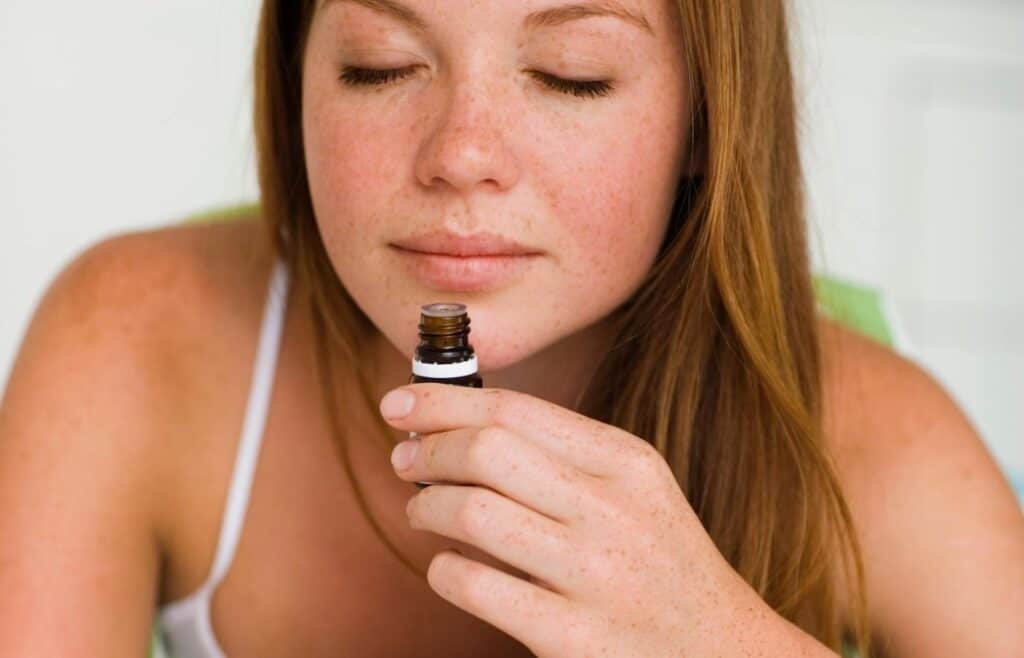 How to use oils while traveling
I suggest purchasing a few roller balls if you don't have them yet or a mini spray bottle. These are both less than 3.4 oz and can be brought onto the plane during your flight.
Spray down the seat/tray table with a sanitizing blend.
Roll some immune boosting oils onto your wrist, neck or chest before you get to the airport and after you get off the plane. Read about how to make roller ball blends.
Wear a diffuser necklace to have handy when your feeling nauseous or sick.
Have an inhaler pen to sniff before and while on the plane to quickly relax you.
Use a disinfectant spray after using any public restrooms.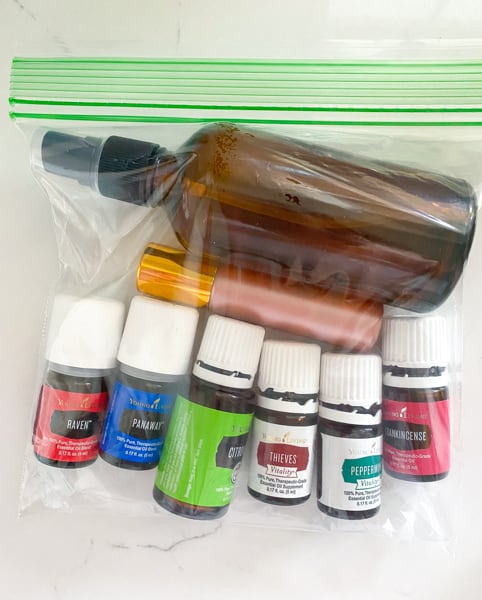 how to pack essential oils For Flying
Traveling with oils does NOT need to be difficult. Yes essential oil bottles are breakable but they are small and portable so all you need is the right travel case! I do NOT suggest adding your oils to a plastic baggie. Not very safe or break-proof!
These spray bottles are AWESOME for traveling. (It is similar to the one in the photo above.) I like to make a few blends and then add them to these spray bottles to use to disinfect the seats/tray table as well as my kids hands. They are just 2 oz. which means they are under the 3.4 oz. limit! Whew!
This 30-hole essential oil carrying case is AWESOME for airplane travel. Each bottle is individually protected so you won't need to worry about breaking them!
This 10-hole essential oil carrying case is smaller for less oils and also protects each bottle just as well!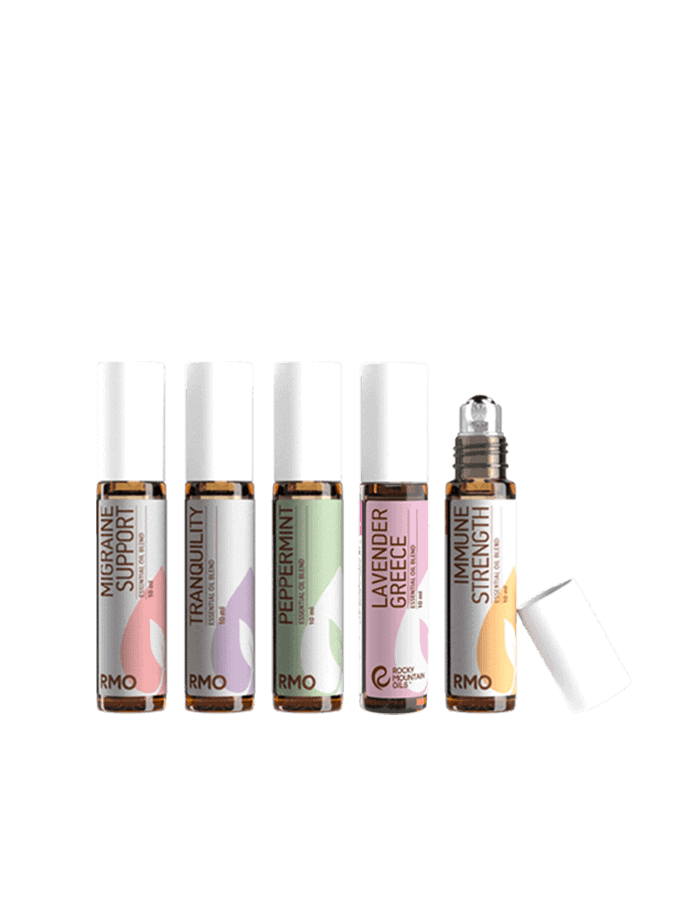 This Large Essential Oil Carrying Case is for the serious oiler. It holds up to 87 bottles AND has a storage place for your roller bottles! Whoa mama.
This Essential Oil Carrying Case is a pretty color and can hold up to 70 oil bottles.
Sometimes you don't want to spray other people around you if they're close by on the plane. Using roller bottles like these are very convenient for quick application wherever you are plus they are just 10 ml and will easily fit in your pocket.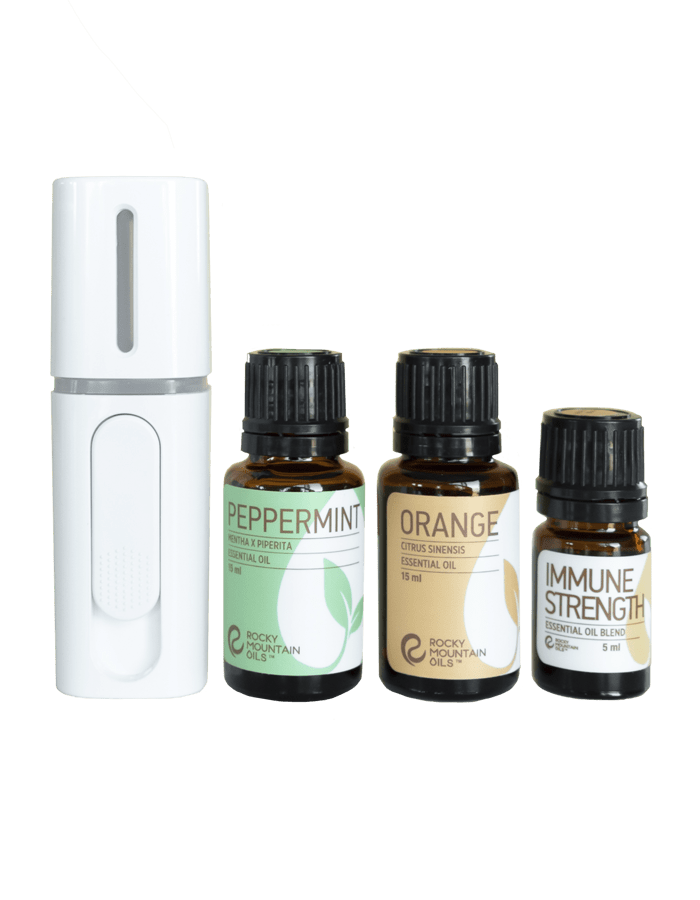 This pre-blended roller ball kit is awesome to take with you. It has blends for immune strength, migraine support, tranquility, as well as two staples- lavender and peppermint oils.
Don't forget a carrier oil! Coconut oil is my favorite carrier oil to use when blending my oils together.
If you love diffusers, these mini handheld personal diffusers are AWESOME for traveling!
Other questions people ask About Flying:
"Can I bring a diffuser on a plane?" Yes you can! As long as it fits in your carry-on bag! Just make sure to protect it and wrap it well so it does not break in the overhead compartment!
"Can you practice aromatherapy on an airplane?" Yes, you obviously cannot plug in your diffuser but you can still inhale essential oils using inhaler sticks or these mini handheld personal diffusers.
"How to calm children while flying?" Using lavender is my favorite way to calm my children on the plane. I will rub some onto their feet or belly once we get settled in.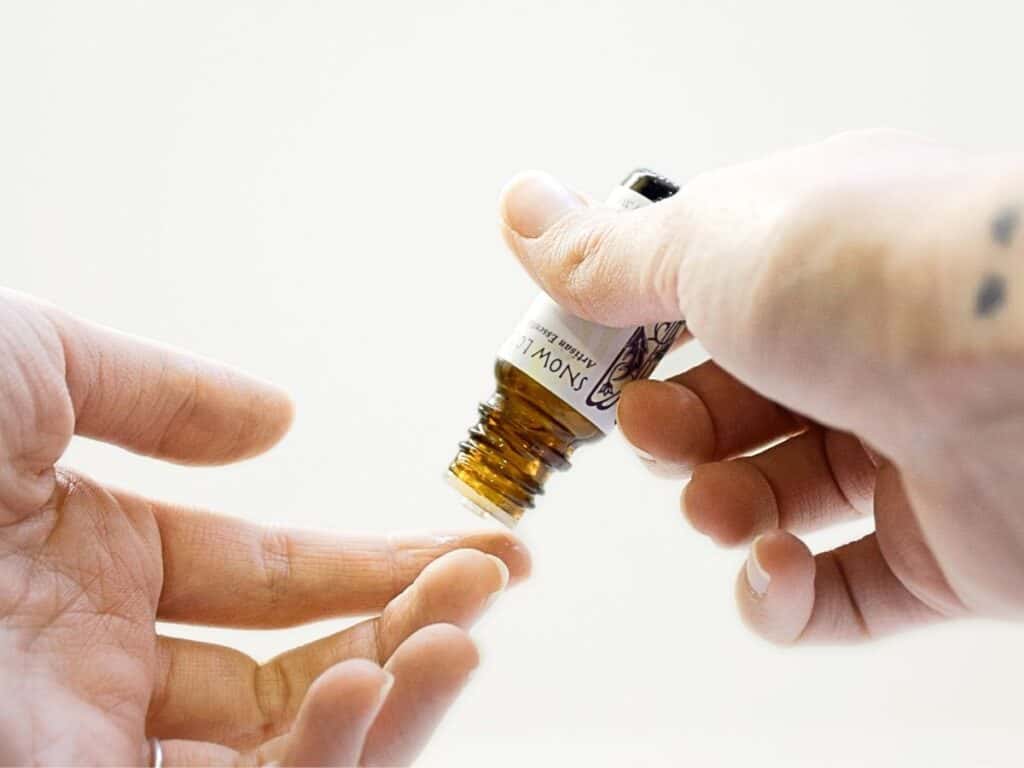 Final Thoughts on Flying With Essential Oils
Bottom line, if you want to fly with your oils, you definitely can. How you apply them on the flight is up to you but just know there are so many application tools/accessories these days.
One final thought I want to mention is to be cognizant of others around you. Some people are very sensitive to certain smells or have certain allergies to aromas. So using stronger oils or spraying them while next to others might not be the best idea. Otherwise, enjoy your oils and use them as you please.
What to read next:
Top, Middle and Base Note Essential Oils
My favorite essential oil products and accessories
Do Essential Oils Really Work?
Popular list of essential oils