What is the difference between an oil diffuser and a humidifier? Can you add essential oils to any humidifier? What is the BEST essential oil humidifier? ALL great questions!
It is confusing because BOTH devices seem to disperse a mist of water into the air so they must serve the same purpose right? Not exactly. So if you're wondering what is the best way to get the therapeutic effects of essential oils while adding moisture to the air, keep reading!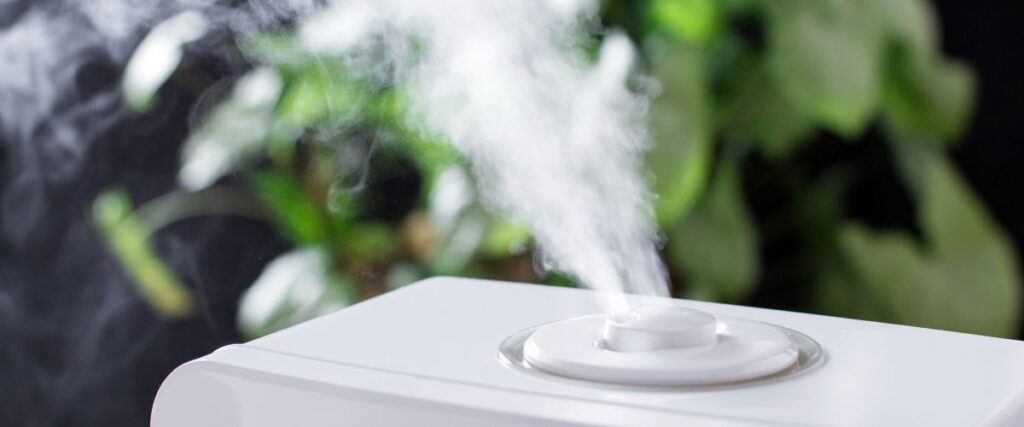 What is an essential oil diffuser?
The main purpose of an essential oil diffuser is to break down and diffuse, or spread, oil particles into the air using tiny water droplets. These oil particles have a strong aroma and are very potent, or powerful. An oil diffuser is simply an aromatic air freshener. Read more about what essential oils are.
People use oil diffusers to promote wellness and create a calming or even uplifting environment using different natural plant botanicals. There are many different types of essential oils out there, some more popular then others.
It is important to point out that not ALL essential oil diffusers require water. So if you want to add essential oils to the air AS WELL AS add moisture, you definitely want an ultrasonic diffuser. An ultrasonic diffuser is the same thing as a humidifier.
Don't have a diffuser? Here are 17 Ways to diffuse essential oils WITHOUT a diffuser!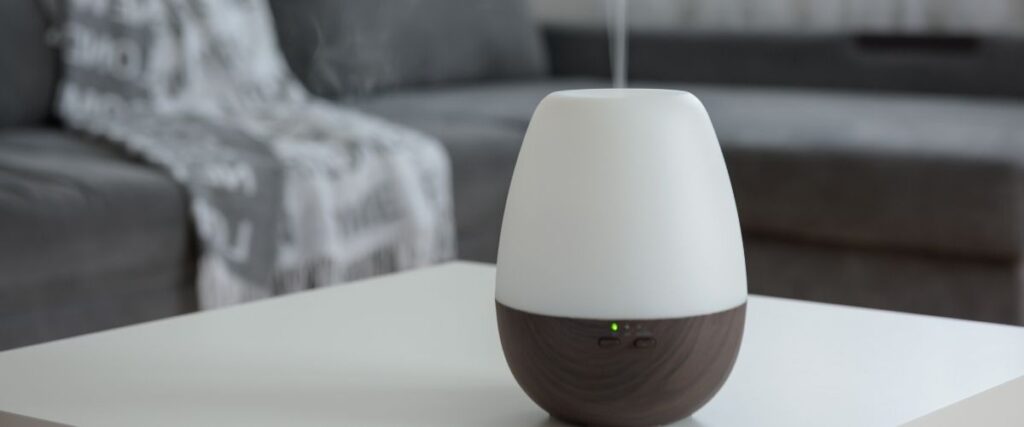 What is a humidifier?
A humidifier is a device that simply adds humidity, or moisture to the air. People use humidifiers if the air is particularly dry inside. Adding water vapor into the air can help with respiratory issues, dry skin, allergies, or even headaches. They are very popular however humidifiers are not equip to properly diffuse oils.
Putting essential oils In your humidifier
A lot of people wonder if you can put essential oils in a cool or warm mist humidifier. The answer is, NO! Standard humidifiers are not made to diffuse essential oils. Essential oils are corrosive and can damage or break down the plastic inside your humidifier. The only exception is if you purchased a two-in-one humidifier/diffuser.

Both ultrasonic diffusers and humidifiers release water into the air but both are not meant to break down essential oils. So it is accurate to say that all ultrasonic essential oil diffusers ARE humidifiers but not all humidifiers are oil diffusers.
So how can you benefit from BOTH added moisture to the air and the relaxing aromas of essential oils? That's simple. Just purchase a cool mist humidifier & essential oil diffuser in one!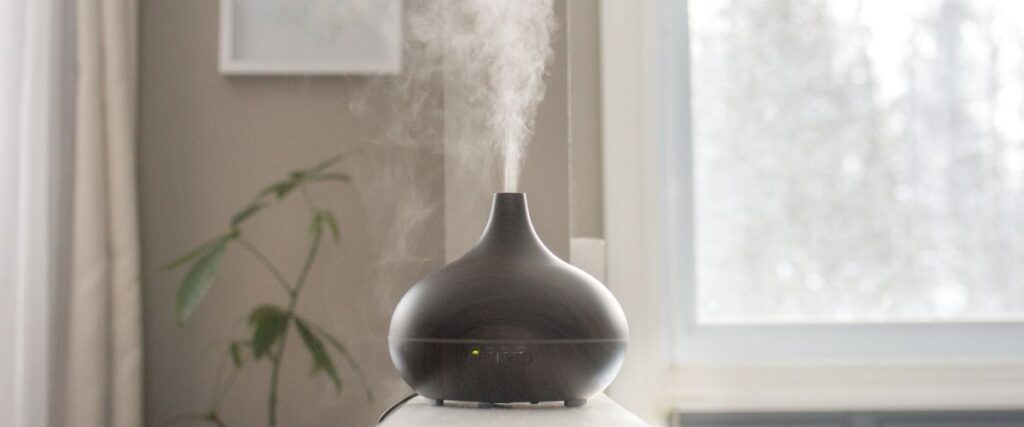 The best humidifier AND diffuser products on the market
There are so many awesome products that can diffuse essential oils while adding moisture to the air. Some are more expensive than others because they can hold more water or offer special features.
Some features to consider before purchasing an essential oil humidifiers
What is the water capacity? Some humidifiers may be to small for certain rooms in your house. You also don't want too LARGE of a humidifier.
Does it automatically shut off? It is nice to have a timer so you can set it to shut off on its own.
How loud is it? Some humidifiers or diffusers are loud so if you want to leave it on while you're sleeping, look for one that is on the quieter side.
Is a filter needed? Some humidifiers require you to change a filter so try to look for one that doesn't require this!
Where do you add your oils? Most essential oil diffusers have a tray that slides out allowing you to easily add your oils.
Does it have a mist controller? Some humidifiers will have different mist levels which allow you to control how humid you want the room.
Does it have a humidity sensor? Adding too much moisture to the air can have adverse health effects. Look for one that has this feature built in especially if you plan on leaving it on at night.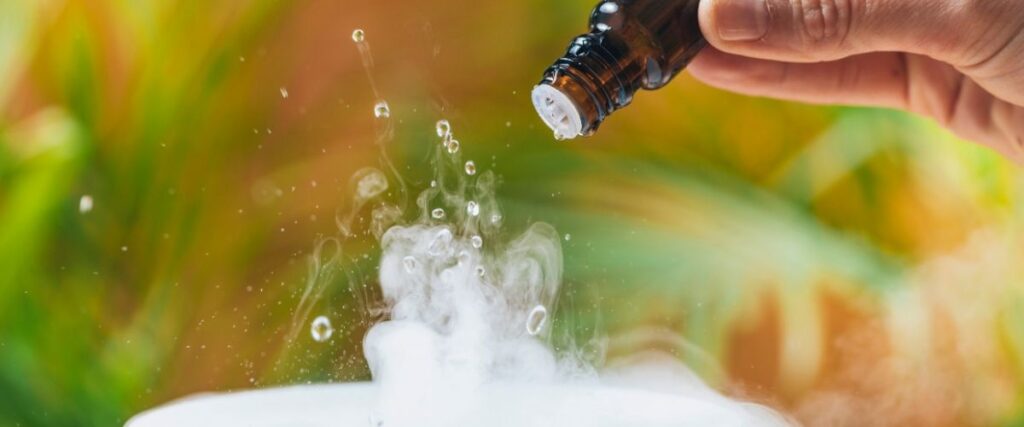 What are the MOST popular essential oil humidifiers?
Here is a list of the top humidifiers that you can use essential oils with! They all have great reviews and are not going to break the bank.
Travel often?? Check out this list of top car oil diffusers!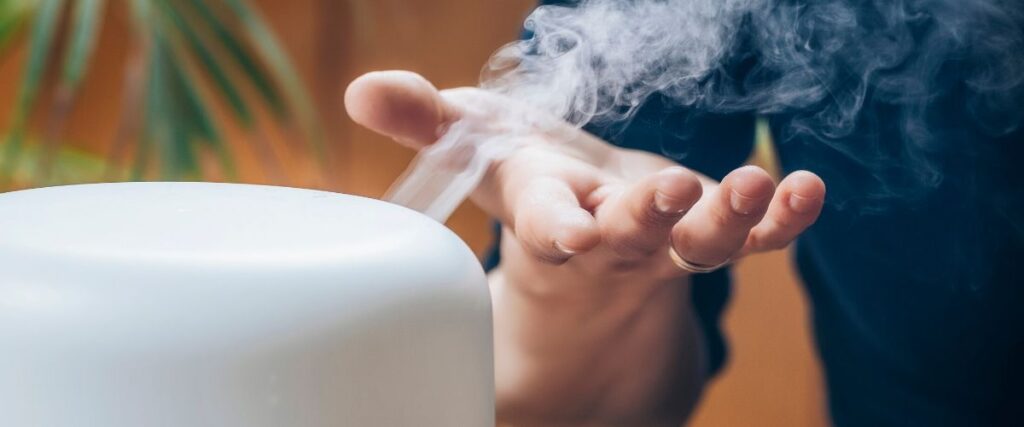 Final essential oil diffuser tips
As long as you purchase a humidifier that is also made to diffuse essential oils, you're set! Diffusers can be very inexpensive or on the pricier side. If you want a larger tank with cool features, you can expect to pay more money. I think the two most important things to consider is the size of the room you want to diffuse and the shut off features it provides. Other than that, choose which diffuser you like best and whichever one LOOKS best!
Make sure to check out my list of 23 diffuser blends you'll love!
Other essential oil Reads:
The Best Place To Put Your Humidifier
Do Essential Oils Really Work?
Popular list of essential oils