Check out these 23 essential oil diffuser blend recipes you will love! All blends are easily customizable and can be used in any size diffuser by increasing the ratio of drops.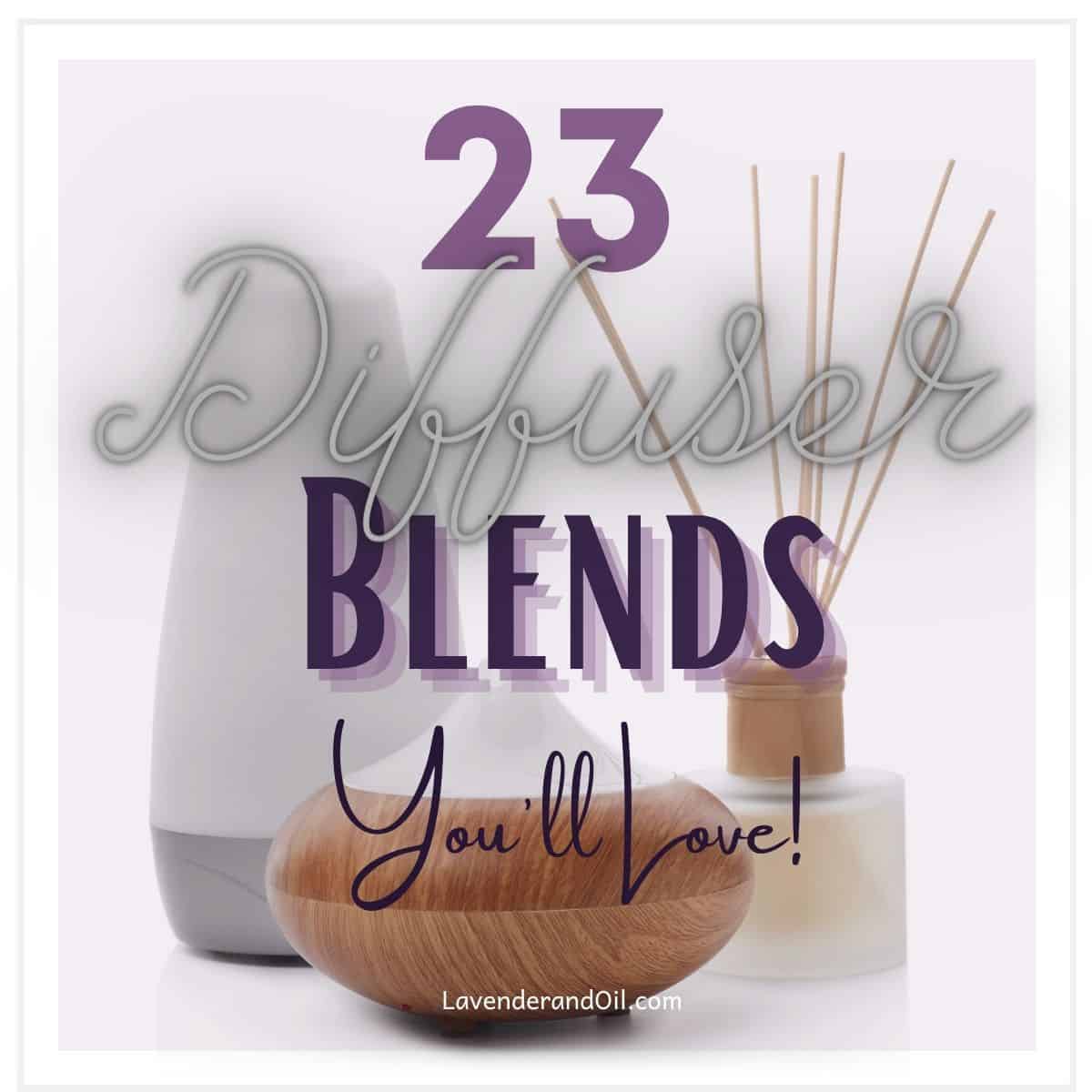 I have been diffusing essential oils for several years now and I must say, I never get sick of it. The best part about using air diffusers is the ability to change your blend to match your mood or need. The oil combinations are endless! You can even make your diffuser blend seasonal to replace those expensive, toxic candles!
These oil diffuser recipes are the best blends out there so you'll want to print them out so you can keep them handy! You can also print out the guide I included below.
Know the difference between an Essential Oil Diffuser vs. humidifier?
Say Goodbye To Those Toxic Candles
I will admit that I used to be a Yankee Candle "snob". I loved their candles. Frankly, I still do. I just don't light them anymore. While their scents are almost intoxicating, the idea of inhaling artificially scented wax full of toxins puts me off. This goes the same for fragrance oils.
I also have a few friends who do not like the smell of them because they get a headache when around them. Because of this, I am always looking for other ways to infuse our home with non-toxic aromas throughout the year.
I used to purchase soy or beeswax candles to avoid paraffins. If you don't know what they are, you should read up on them here. Yes these candles are a bit "healthier", they are not at the same level as essential oils.
Don't have a diffuser? Here are 17 Ways to diffuse essential oils WITHOUT a diffuser!
How To Use An Oil Diffuser Properly
Using an oil diffuser is super simple so don't be intimidated, like I was when I first purchased one! I go into detail about how to use a diffuser here.
You really can't mess up as long as you follow a few simple steps.
Add water. (If you're using an ultrasonic diffuser.)
Add anywhere from 5-20 drops of essential oils or your blends depending upon the size of your diffuser.
Turn on your diffuser and set the timer if you can.
There are recommendations for diluting oils when diffusing. They are nice to follow but those guidelines do not have to rule your life. The most important thing is These blends are all easy and can be tweaked as needed.
The diffuser recommendation is anywhere from 5-20 drops. It does ultimately depend how much water is in your diffuser. To make it easy, aim for 5 drops per 100 ml of water. If you want a stronger aroma, you can use more than that but just make sure not to diffuse for too long. The length of diffusing should be less than 60 minutes to be safe. Think, 60 minutes on, 60 minutes off. The size of the room makes a difference as well.
💆‍♀️Check out these essential oils that will make your house smell like a spa!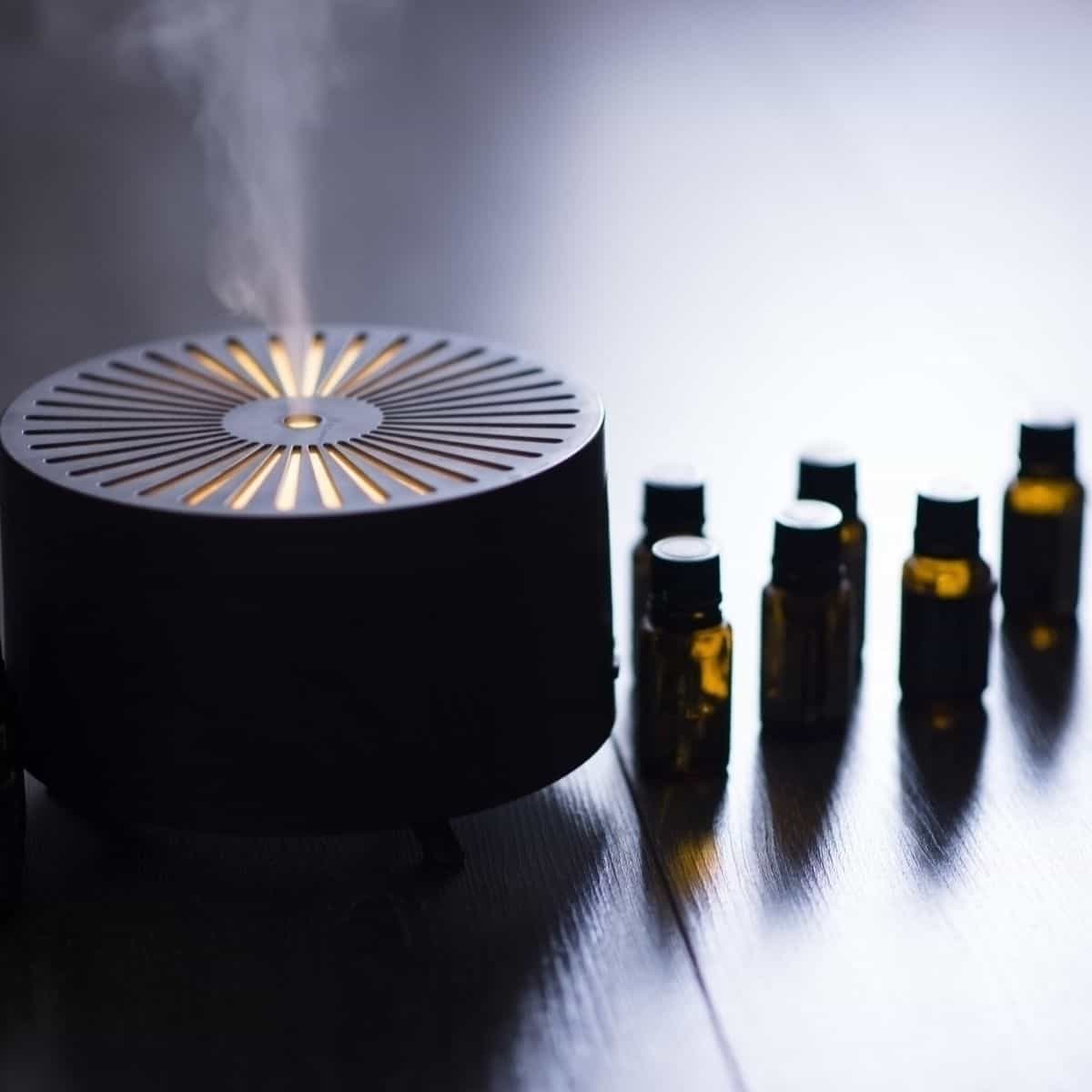 Diffuser Recipes and Blends
These diffuser recipes are ideal for standard diffusers that hold approximately 150-300 ml of water. If you're using a larger diffuser or diffusing in a larger room, you may need to use more drops.
To make it easy, the following recipes are ideal for 300ml diffusers.
Freshening Blend

4 drops orange oil
4 drops lemon oil
2 drops peppermint oil

Clean Air Blend

5 drops tangerine oil
5 drops lemon oil
3 drops tea tree oil
2 drops rosemary oil

Immunity Boosting Blend

5 drops thieves oil
4 drops frankincense oil
3 drops orange oil
3 drops oregano oil

Mood-Lifting Blend

6 drops ylang ylang oil
5 drops grapefruit oil
4 drops bergamot oil

Calming Blend

6 drops lavender oil
5 drops bergamot oil
4 drops vetiver oil

Fall Blend

6 drops orange oil
4 drops clove oil
3 drops ginger oil
2 drops cinnamon oil

Spring Blend

5 drops juniper berry oil
5 drops eucalyptus oil
5 drops lemon oil

Summer Blend

6 drops bergamot oil
6 drops sandalwood oil
3 drops patchouli oil

Winter Blend

6 drops balsam fir oil
5 drops spearmint oil
4 drops wintergreen oil

Christmas Morning Blend

6 drops blue spruce oil
5 drops cedarwood oil
4 drops pine oil

Stress Relieving Blend

8 drops lavender oil
7 drops bergamot oil

Deep Sleep Blend

5 drops lavender oil
4 drops cedarwood oil
3 drops frankincense
3 drops vetiver

Headache Blend

6 drops peppermint oil
5 drops lavender oil
4 drops eucalyptus oil

Allergy Blend

6 drops lemon oil
5 drops peppermint oil
4 drops lavender oil

Focus Blend

8 drops peppermint oil
7 drops orange oil

Congestion/Sinus Blend

6 drops eucalyptus oil
6 drops peppermint oil
3 drops lavender oil

HangoverBlend

6 drops lemon oil
5 drops grapefruit oil
4 drops eucalyptus oil

Grounding

6 drops frankincense oil
5 drops thieves oil
4 patchouli oil

Energy Blend

6 drops tangerine oil
3 drops lemon oil
3 drops peppermint oil
3 drops rosemary oil

Nausea Blend

8 drops ginger oil
7 drops peppermint oil

Pet Safe Blend
Happy Blend

7 drops ylang ylang oil
4 drops grapefruit oil
4 drops bergamot oil

Masculine Blend

4 drops sandalwood oil
4 drops juniper oil
4 drops pine oil
3 drops spearmint oil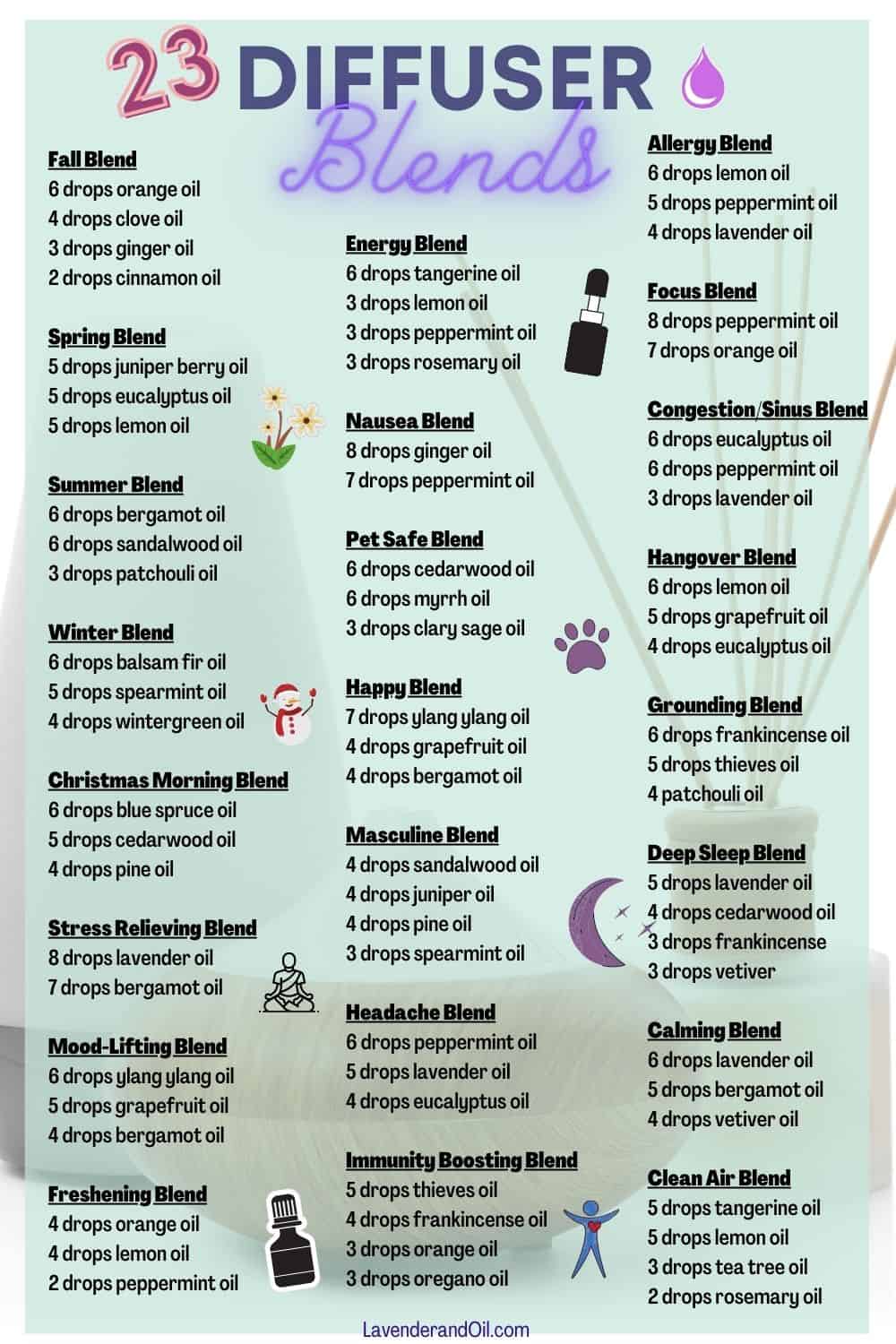 Did you know that essential oils have a shelf life? Make sure your oils have not expired!
The Benefits of Diffusing Oils
There are many benefits to diffusing essential oils. Not only are they relaxing and good for you, they are simple to use. Here are the most common diffusing benefits:
Better sleep
Decongesting
Bug repellant
Pain relieving
Anxiety reducing
Tips For Blending Oils
Although these mixes of essential oils are a great guide to follow, they are not strict recipes. You can add more of any oil you like or simply omit/substitute one of the above oils with another oil of the same note.
Two important things to keep in mind when blending and diffusing oils are the oil notes and well as the vibration of the oils. These articles will help you choose which scents not only work well together but also will last longer in the air.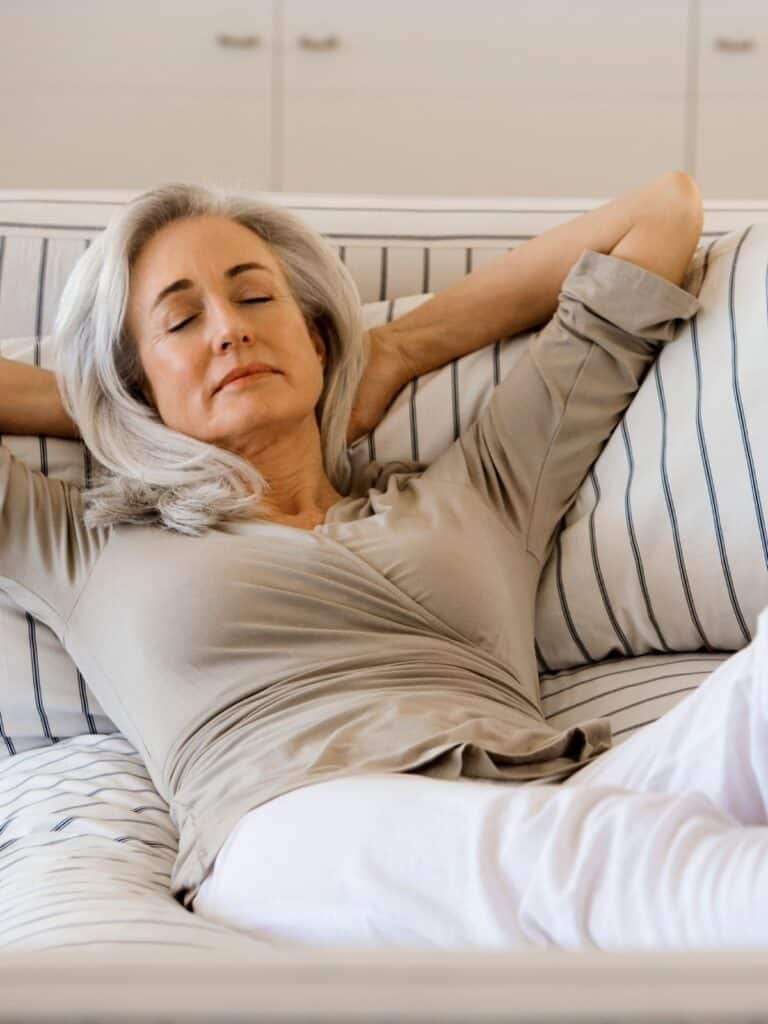 Other Ways To Diffuse Oils
Other than using a standard oil diffuser, you can diffuse essential oils other ways. Some items and tools people use are:
Accessories: Bracelets, necklaces.
Car diffusers: These snap onto your car vents and blow scents out through the filter.
Travel diffusers: These are usually hand-held and battery operated devices that are best for taking on the go.
Inhaler Sticks: These are exactly what they sound like. Sticks of fabric that you add your favorite essential oils to. They are stored inside a container that you inhale as the day goes on.
Wooden Diffusers: These require no electricity since they're evaporative making them great for travel or diffusing small rooms.
---
Disclaimer: This guide has not been evaluated by the FDA. This guide is not meant to diagnose, cure, or prevent disease and illness. Understand this information is not a substitute for medical advice. Always consult your physician if you have any health concerns, diseases or illnesses.
---
Other Essential Oil Articles You May Like:
Essential Oil Diffuser vs. humidifier
Oils To Help With Writers Block
Third Eye Chakra Essential Oils